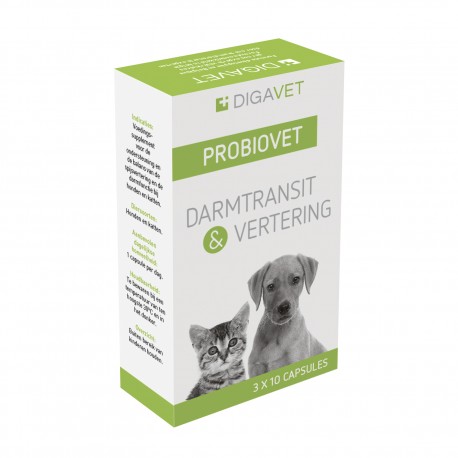  
PROBIOVET is a complementary food specially designed for our pets, containing microbiotic strains beneficial to their health.
PROBIOVET provides a specific combination of microbiotic strains that promote the growth and diversity of beneficial microbiota. These microbiotic strains are carefully selected for their efficacy, stability and safety.
PROBIOVET can be used as a complementary food to improve our pets' digestive health, reduce symptoms linked to diarrhea and constipation, improve their immunity, and promote their general well-being.
PROBIOVET's microbiotic strains are specially formulated to be easily assimilated by pets and to resist gastric acids, guaranteeing maximum effectiveness.
Composition per 450mg capsule:
Streptococcus thermophilus 2,5mg
Lactobacillus acidophilus 2,7mg
Lactobacillus bulgaricus 16mg
Lactobacillus casei 2,3mg
Bifidobacterium bifidum 8mg
Lactobacillus plantarum 1,6mg
Magnesium stearate 4,5mg
Analytical constituents:
Crude protein 3.99
Fat, crude 0%
Crude cellulose 0.03
Crude ash 1.00
Sodium 0.04
Additives:
Fructo-oligosaccharides (FOS) 22.5mg, silicon dioxide 4.5mg, maltodextrin 385.4mg
Complementary food for dogs and cats based on microbiotic strains. Contributes to normal intestinal function.
Species: Dogs and cats. Recommended daily dose: 1 capsule per day. 2 capsules per day in case of loose or liquid stools.
Storage: Store below 30°C, protected from light.
Precautions: Keep out of reach of children.