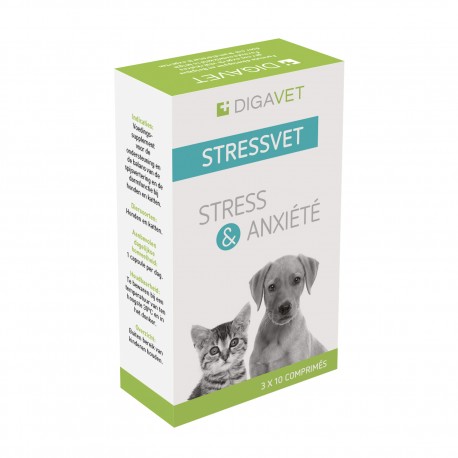  
🐾 Complementary food for dogs and cats 
🌟 Naturally relieve your four-legged friend's stress! 🌟
Does your adorable dog or cat sometimes seem stressed or anxious? The "StressVet" food supplement is here to help them regain calm and serenity naturally.
✅ Carefully selected ingredients, backed by EFSA claims:
Tryptophan: An essential amino acid that promotes the production of serotonin, the happiness hormone.
L-theanine: A compound found in green tea that helps reduce stress and promotes relaxation.
Vitamins B1, B2, B6: Important vitamins for the nervous system, contributing to fatigue reduction and a healthy emotional balance.
🌿 StressVet benefits:
Reduces stress and anxiety in dogs and cats.
Promotes calmer, more balanced behavior.
Helps relaxation and promotes quality sleep.
Contributes to your companion's emotional balance.